Denver, CO
November 5-6, 1998
---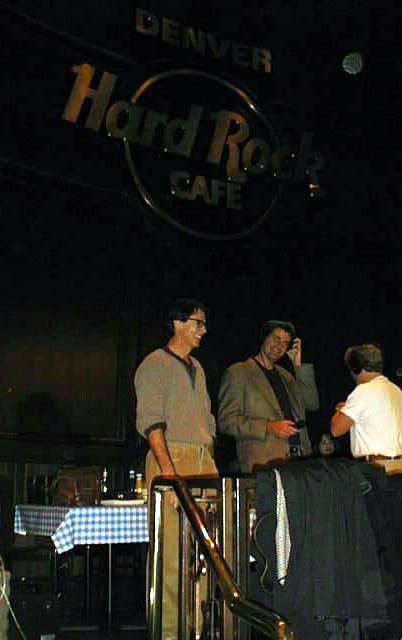 November 5, 1998
Hard Rock Café
Denver, Colorado
By Michelle M. Sparkman
Egg52596@aol.com
What a blast! The official first day of business at the Hard Rock Café in Denver, Colorado was awesome. I guess because the guest celebrity was RICK SPRINGFIELD!!! After waiting outside and inside for a table for over 2 hours, we concluded that the wait was worth it. Having a front row seat to see Rick was a dream come true for me.
A little history first: I saw Rick at the Fiddler's Green concert, Englewood, Colorado, in August. I wrote a review about it. During the show, a girl jumped up onto the stage and danced with Rick. I was totally mesmerized by the show and was incredibly envious of and excited for her. Rick is doing another show here in Denver on November 6th, so I stood in line for tickets for that show and who do you think I meet but the girl who jumped up onto that stage with Rick at Fiddler's! Kimberly and I have become friends through the Rick connection and she is just as crazy for him as me (I'd hate to admit it but maybe even more so!).
The radio station sponsoring this momentous occasion was ALICE 106 and they broadcast live at 5:00PM at the Hard Rock (special thanks to them for making this happen). I met up with Kimberly, her mom Sandy, and her sister, Amy, and we all headed over to the Hard Rock. The line was out the door and it was pretty cold outside. We were totally prepared to wait as long as necessary to get in there and close to Rick. This was at about 3:00PM. We finally got inside and requested a table up front. After waiting about an hour and 45 minutes, we were seated at a front table for the show. Live at 5 started and the DJ's seemed to be just as excited to see Rick as the crowd, getting us rowdy and screaming. Someone at our table informed one of the DJ's that Kimberly was the one who jumped up onto the stage at Fiddler's, so Greg Thun, a DJ at ALICE 106, came over and interviewed her and her husband, Cliff, on the air. He asked Kim if she thought Rick would remember her and she said "God, I hope so." Then he asked if she had any plans to jump the stage again and she said yes. The DJ's said there were about 1,000 people outside waiting to get in. I felt very lucky to be in the door, much less up front!
Finally, at about 5:45PM, we got word that Rick came in upstairs. And then, through the crowd, wearing a tan sweater, kaiki corduroys, blue sneakers and black-rimmed glasses…was RICK! I think I was the first to recognize him and I screamed. He looked right at me and smiled that gorgeous smile of his that looks so cute. Then the crowd roared! As he made his way to the stage, Live at 5 came back on the air. I wonder if the listeners could even here the DJ's, we were so loud!
The DJ's first asked Rick some questions. They asked him where he has been for the last 10 years or so. He said that he has two sons and he's been busy raising them. He wanted to say around the house with his family and has been working on acting projects that allow him to say close to his family. He also said that he is currently doing weekend touring. The DJ's also asked him if the new album "Karma" sounds like the old Rick or something new. Rick said that he thinks the sound still sounds like him but hopes that he has put something different into it. They also asked him how he felt to have fans react to him the way we did, screaming and yelling and admiring him. He said it is great to be remembered. He is so humble and that's what makes him Rick!
At that point, the DJ's broke from the air and allowed the crowd to get closer to Rick. Just as they broke from their broadcast, Kimberly went strait up to the stage, leading the crowd into just about attacking Rick! Kim hugged him and asked if he remembered her. He said yes, that she was his dancing partner! Both Kimberly and I had concert programs, mine was from the "Sweat for Success Tour", 1981 and hers was from the World Tour, 1984. He signed Kimberly's "Thanks for the Human Touch" (appropriate since that was the show he was performing when she jumped up onto the stage). Kim had a chance to talk to him for a minute, telling him how much she admired him. I was working my way up to the stage to get my program autographed. With the crowd as "hungry" to see Rick, I did not think I'd get anything more than an autograph, if that. Thankfully, Kim pulled me up to the stage, where I could see (Thanks, Kim!!!). She then pulled Rick aside AND INTRODUCED ME TO HIM!!! I could not believe it. He said hi and put his hand out for me to shake. I shook his hand and said "It is so great to meet you." I then handed him my program and he signed it for me. I told him he was the best, as I wore the biggest smile on my face ever! I worked my way back down to the table. Many people came to the table to look at my program. Many could not believe I still had it, after all of these years. It was the most appropriate item I could have had for him to sign.
Rick worked his way to the other side of the stage and down the stairs, signing autographs all the way to the front doors. I can't imagine what the scene was like outside the Hard Rock. After Rick left, the crowd settled a bit and ALICE 106 did some contests. To be honest, I don't remember much after meeting Rick. Kim said I was dazed all evening. My mind was just somewhere else. I cannot believe I was able to meet Rick, one of the few that actually had one-on-one eye contact with him. He was so gracious and polite. I'll never forget meeting him and hopefully, someday, will get to meet him again, face to face. He is an incredible person! Thanks, Rick, for being you!

---
November 6, 1998
By Michelle M. Sparkman
Egg52596@aol.com
These last 2 days have been unbelievably incredible. I can't even begin to explain how and what I'm feeling inside, but I will do my best because it is something I would like to share with the world! For starters, Rick Springfield ROCKS!
I saw Rick at Fiddler's Green in Englewood, Colorado, in August of this same year and his performance was fantastic. Unfortunately, I was so far away that it was hard to see every detail. But my soul was in the front row and Rick brought me to tears, even though I was all the way in the back. I truly felt like he reached out to every person there. This time, I was in the front row and will never, ever forget the experience of seeing him so close!
I've met a few people through the "Rick Connection" (as I call it), one person in particular, Kimberly, who jumped up onto the stage with Rick during "Human Touch" at Fiddler's. We met so coincidentally that I think fate brought us to meet. She became my partner in crime in doing everything possible to be around Rick as much as we could while he was here.
We went to the Hard Rock Café on Thursday, where Rick made a brief appearance, gave a short interview, and was gracious to sign autographs for as many people as possible. He remembered Kimberly from the Fiddler's show. And so, after Kimberly said hello and hugged him a thousand times, she pulled me through the crowd and I had the opportunity to meet him as well. Although brief, he looked straight at me when he said hello to me, which gave me the feeling he wanted to make one-on-one contact with all of his fans. That's special, since he was so busy up there talking to people and signing stuff. But the Hard Rock is a whole other story. It gets better!
Kim and I decided to go to the Paramount Theater in Denver, which is where Rick was playing, early to get in line. Our seating was general admission for 300 people in front of the stage and we wanted to be right up there with Rick. So, we got there a little after 11:00AM. No one was there yet (whew!). While we were standing there, an employee of the Paramount came out and asked us why we were hanging out and we told him about the general admission and getting up front. He, of course like everyone else, told us we were crazy, and he went inside and made us some hot chocolate. Later, some members of Rick's stage crew/band came out also to ask why we were there, and again we said because of the general admission seating. They told us to relax about it and they would see what they could do about getting us up close. Of course, they recognized Kim from the Fiddler's show (who could forget?). A few minutes later, they came out with 2 AFTER SHOW PASSES!!! I was dumbfounded! I could not believe I was actually going to go back stage and meet Rick, again, twice in a 24-hour period!
The guys then asked us if we would like to join them and a friend for lunch (to satisfy your curiosity, no, the friend was not Rick WAAA!). Of course, we again worried about the line. By then there were 4 other girls there. They told us not to worry about it and that they would personally put us back in line. The girls that were behind us were also very nice and later said that they would hold our spot for us until we returned (thank you 2 loyal and kind Rick fans!). So, off we went to lunch. We went to the Denver Diner a few blocks away and had the opportunity to learn more about our favorite celebrity! We confirmed Rick's dedication to his family and love for his fans. He very much enjoys performing and loves the fans' reactions.
After lunch, they guys walked back to their hotel, which they adamantly refused to tell us the name, although we could make some guesses, and we went back to the line. They mentioned inviting us in for the sound check, but that was to start at 2:45 and by 3:15 they had not come out to get us so we did not think we would be going in. But at the last minute, one guy came out and escorted us in. What luck did we have on that day!!!
We were instructed to sit in the back so as not to disturb the sound check. Many of Rick's support people came over to say hello. And yes, Rick was there. Walking around the stage, checking out the layout and the speakers and so forth. It was hard for Kim and I to stay quiet. I felt so giggly being there, mostly because we were so close but could not say anything. The sound check lasted about 45 minutes and we were asked to step into the lobby while they did the vocal sound check. But we could still here Rick! He's so awesome.
We were able to stay in the auditorium until they let everyone in and we, of course, went right for the front row, on the barricade, to the right of the stage. The people began to pile in and crowding became inevitable. Lucky for us, Kim's husband, Cliff, was there to protect us from being squashed (thanks Cliff). We were raring to go! A comedian came out first but I think after 15 minutes of people screaming for Rick, he had had enough and called it quits.
At a little after 9:00PM, after waiting over 10 hours to see Rick, here comes the band to the reverberations of the keyboard and "Affair of the Heart". Rick entered the stage graciously while playing his guitar, in a black suit with a white shirt and wearing his black-rimmed glasses, which give him a totally different, sexy look, I might add. He's so handsome! He lost the glasses after the first song, and the jacket was next. Several fans gave him roses and as he strummed his guitar upward, the rose pedals flew everywhere. There were so many undergarments thrown up onto the stage it looked like the lingerie department at Sears! Rick made a few comments about the bras and underwear on the stage, even picked up a few.
Rick played so many hits and I was enjoying myself so much, being in the front row and having him look at me quite a few times (especially because I was standing next to Kim who he now refers to as "his first" and "dance partner"), that I couldn't possibly name all of the songs or the order he played them. He did play all of the hits: "Love Is Alright Tonite", "Jessie's Girl", "I've Done Everything For You", "Kristina", "Don't Talk to Strangers", "Love Somebody", "Bop 'Til You Drop", "Alyson", "State of the Heart", "Rock of Life" (the list could go on and on)! There were a few songs which he played that were a special surprise to me and unexpected. He played "Carry Me Away" from "Working Class Dog", which was great. He announced that the dog from the front cover died about 2 years ago (awes from the audience) and the dog on the cover of the Karma album's name is Scooby. He also surprised me with "I Get Excited" from "Success Hasn't Spoiled Me Yet". He played a new song from his "Karma" album called "It's Always Something", which was awesome. He did not have time to play any new material at Fiddler's, so I am so thankful he was able to perform new music here. It's great, the lyrics are great, the music is great. It's just great and I cannot wait to get the album! He also played "My Father's Chair" from "Tao", which always makes me cry and this time was no exception. The song reminds me of my grandfather who I was very close to. While he was performing that song, and as the tears rolled down my face he looked at me with such compassion. I certainly admire him for his ability to express such deep emotions through his music.
I have to make special mention of one song in particular that he played, both here and at Fiddler's Green. "Human Touch" was the song Rick was playing when Kim jumped up to dance with him at Fiddler's. And again, even under the close watch of the head security guard that failed to keep her away from Rick at Fiddler's, Kim was successful in getting up onto the stage to be with Rick. I think that is their special song now. Rick continuously looked down at Kim while we were watching his show, but when she got up there this time, it was like it was meant to be, for both of them. And although women were jumping up onto the stage all night to be with Rick, this was different, traditional almost. And he was happy that she was up there. He continuously commented that anyone could come up to sing with him (of course the security guards loved that J), but Kim just had to be up there for "Human Touch" and she was. You Go Girl!
Rick did do an encore and played "Do Wa Diddy", "Living In Oz", and "All the Day and All of the Night". And as I stood there, watching the performer I've admired from a distance for so long, I felt so close to him. He made all of the fans feel close to him and gave so much to us. Several times during the show, he'd stand on the barricade allowing us to touch him while he played guitar. He even stopped a few times for autographs. What a performer.
The after show session was tame but cool. Everyone got in line against the wall to get autographs and pictures taken. And when it was my turn, I went up to him and introduce myself as I did at the Hard Rock, gave him three hugs (at least), told him how great he is and got a picture signed for my friend, Connie. He asked me who Connie was and I told him that she is a friend of mine and asked me to get it signed for her. He said that was nice of me. After everyone else was finished, Kim asked if we could get a picture of the three of us and we did. And then we had to leave.
I am still quite dazed about the last 2 days. I'm in awe of Rick, his presence, his compassion, his generosity, and his admiration for his fans. I feel like I am not only a fan but also a friend. Not many performers allow you to get so close. I feel so lucky to be a part of Rick's following and will continue to be not just an admirer from afar but a friend in heart. Thank you, Rick, for all you do for and give to your fans and friends!



Anyone wishing to submit a tour story, please email stories and p hotos to: ashelin@aol.com


If you have comments or suggestions, email one of us at
viv4rls@aol.com or
ashelin@aol.com