Pleasure Island at Disneyworld, FL
May 9, 1999
---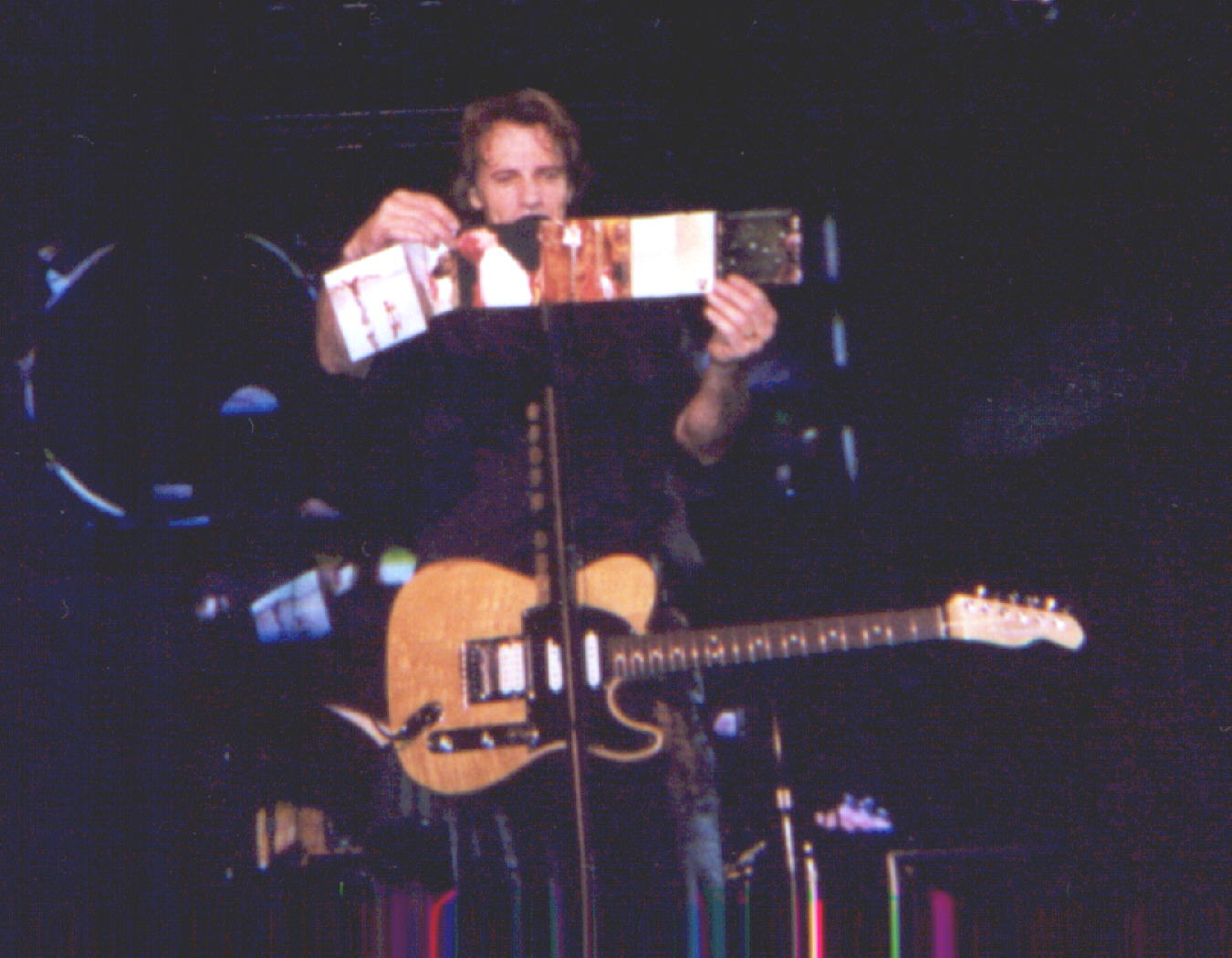 Photo and Story by: Shannon
Email: StylistSA@aol.com
Hi all.. Jenn and I went to P.I last night....It was amazing..He was (I think) surprised that so many of us were there, it was pouring and the clouds were rolling in all nasty and dark..BUT to my shock, he ROCKED and it was a wonderful show..
Unfortunately, no glasses for AOTH :( Call me crazy but my heart flipped when he walked out to Atlanta with them on :)
But he was great, played the best songs and I LOST it when he came out in his silky, shiney outfit for the second show OMGG :) talk about HOT :) You guys he is just about the sexiest man I have ever laid my eyes on..he's gonna be 50? That is just not possible:)
He was messing with the crown about his age last night, LOL he was asking people to guess his age :) we FANS of TRUE nature, KNEW of course, and some people were joking with him & saying "25?" LOL and "35?" and he was like "YEAH, that's it, Im 25 " LOL:) "close" he said (and smiled the TO DIE FOR, AGELESS, DIMPLED, ADORABLE, MAKES MY HEART MELT SMILE ) OK OK Shan get a grip!! LOL... We were laughing, he reallly really interacted with US last night.
The highlight of our night was when he took a few requests and I was SCREAMING for him to sing My Fathers Chair and he eventually did sing it. He and I were both crying (my father passed away 3-22-97) it was beautiful and so was he singing it with tears in his eyes (DOES BARBARA KNOW HOW LUCKY SHE IS????)
THEN~~he went to sing "Free" off of Karma, by request, & he forgot the lyrics and JENN ( you go girl) was literally FLIPPING cuz she had the insert in her pocket and he TOOK IT FROM HER and used it to sing :) she was a grinning fool all the way home (hour and 1/2 ) LOL he made her day, year, life :)
We were right behind Bruce and Susan and Leslie so we were in the second row (or whatever ya wanna call it, not a row exactly, lol ) in the center of the stage :) it was GREAT and I can't tell you how many times ( I SWEAR ) I had eye contact with THE MAN himself :) he was superb and I can't wait to go to NYC for the Westbury show and then Philly the next day ..one question though?? WHAT AM I GOING TO DO WHEN HE IS DONE TOURING???:( OMG I just can't handle the pressure :( ~~~~wahhh~~~~~~~ ~~hating to admit it, but I was singing " wish I was Jessie's Girl " last night~~ LOL~~ Forever a Rick fan! Shannon
---
Story by: Roy Garcia
Email: Dustymop@worldnet.att.net
Just got to see Rick play at pleasure island in Disney world. I have to say the man still puts on one hell of a show. We waited in the rain for almost 2hours before the show but there was no way we were going to give up our spot in the front of the stage.(the pleasure island stage is outdoors) At one point we were afraid they were going to cancel the 8:00 show. When Rick came out it was unbelievable. He has the same energy now as he did when he was 30. I saw him play in 1982,1983 and the early90's but I was always far from the stage. To be in the front row this time was just incredible. I had brought my 1982 tour shirt with me and held it up for him to see. He knew what tour it was from without even seeing the date. I wish I could have gotten him to sign it.
The only disappointing thing about the whole night was that Rick only played for an hour. He has so many great songs that he would have to play at least 2 hours for everyone to hear their favorites. [I really wanted to hear"what kind of foolam I" .Maybe he played longer at the 10:00 show. Unfortunately I could"nt stay for that one. Does anyone know if he played different songs during the late show? Please post if you were there.
I also must say that Rick Springfield fans are the friendliest people in the world. I went to the show alone since my girlfriend is'nt a fan.(yeah,I can't believe it either) But as soon as I got there I was surrounded by newfound friends. Thanks folks!

---

Anyone wishing to submit a tour story,
please
email stories and
photos to:
ashelin@aol.com

If you have comments or suggestions, email one of us at
viv4rls@aol.com or
ashelin@aol.com